This was a storm-before-the-calm sort of event.
Our intention was to start the Wasatch Ultimate Ridge Linkup (WURL) at 9:30pm Friday August 23rd.
It was a hectic day…
I spent the day preparing the kids' food and things for a night and day with a babysitter (sister Paige, and our friend Kiley). We were in the middle of a housing transition (more accurately a switch to living between family's places, trips, and our Sprinter van for the next 6-8 weeks). It was a work day for Brennan, then he spent the evening troubleshooting some issues with our old Ambit3 GPS watch. It's always a task getting kids to bed, and this night was especially worthy. We were scrambling through the storm until the moment we got in the truck, bound for the Ferguson Canyon trailhead.
If I'm being completely honest, it wasn't until we were there standing in the dark, about to start our watches that all my stress and anxiety about the event finally melted away. Kids were in good hands, we had everything we needed ( I was pretty sure) and all our stashes were in place. No one was meeting us, so no coordination was necessary. Just Brenn and I and that long ridge line waiting for us in the dark. The anxiety that usually accompanied me in the night melted into the soft coolness of low temps, and little butterflies bubbled up in my stomach as we began our trot up the Canyon.
Alexis on the Cottonwood Ridge around 2AM.
3 peaks down, many to go…
We moved quickly in the dark and consistently, running any semi-flat terrain and exploiting those trekking poles to maintain a good momentum up the endlessly steep trail. We chatted some and time flew. Before I knew it we had passed through the aspens, over the boulder field and finally gained the ridge-line. Then 45 min later we stood atop the East Broad Fork Twin Peak (a new FKT to boot, 2h 41m), This was 25 min faster than our training ascent the week before. I was excited, and not feeling very tired. On we pushed, only stopping to grab a quick water stash at the Broad Fork saddle and put new batteries in my headlamp. Just after Broad Fork, however, I started to feel nauseous....a feeling that would dog me for the rest of the route. I did my best to stay on top of nutrition and hydration, but as soon as we gained the ridge, the nausea hit and didn't stop until we finished :( This definitely became a limiting factor to my progression, it did get worse as the traverse went on, and worst under the afternoon sun (from Pfeifferhorn to Lone Peak).
The temps on the ridge line were strangely warm. I stopped to put on a jacket but ended up taking it off again because I got hot, I remember thinking this was a bad omen and worried what temps would be when the sun rose.
We continued to move at a steady pace, feeling comfortable and calm as we made the long traverse toward Cardiff. At Cardiff we paused for less than 10 min at our stash. We ate, drank, grabbed supplies and continued on our way. After Flagstaff the terrain soon becomes less technical and we took full advantage of running every section we could. Hints of light began to sneak into the sky after we passed Point Supreme.
Earth spinning us back toward the sun as we passed point supreme.
We moved through Devil's Castle and found under an early and hot sun on the ascent of Sugarloaf. We had been on pace for a 20h 20m overall finish, which would make a sub-20 possible. But Sugarloaf is where my pace started to slip just a little. The heat was compounding my nausea, and it became too unrealistic to hold our pace. The new goal became a sub-22hr finish, but it was going to be a battle against the heat and unrelenting nausea.
A real low spot for me was White Baldy, my pace was significantly slowed, I felt hot, sick, and tired. I was happy to get to a stash our third stash on the Red Pine ridge. From here, I just needed to keep moving and finish. The sun was hot, the wind was low, but as long as I kept drinking, and kept down some food, I knew I could at least finish, and hold a lead on the time I had made.
Alexis moving from White Baldy across the Red Pine ridge to the last stash,.
Alexis driving poles into the steep ascent of Pfeifferhorn in the full midday sun,.
On the descent from Upwop, I got a second wind and started to recover some lost pace.
Lightning ridge was sloppy, we had to decent down to some snow to help cool ourselves and lost some time there. We missed the efficient line to South Thunder. We got to South Thunder after an eternity, with the sun blazing, then through the two sub peaks to Big Horn. From Bighorn to Lone Peak was a slow slog, both Brenn and I were over heated and loopy.
We didn't do our best route finding off of Bighorn but managed and by the time we got to the top of Lone Peak I was out of water again. I may have said it twenty times already, but it was HOT!
We paused very briefly on Lone Peak, as I thought I might faint, but then began our decent into Bells canyon via the notch. As per usual this took longer than planned. The Notch was brutal as always, lots of falling and scrapes. Then across boulders, lots of thinking we were lost until we finally hit the trail at the bottom of the reservoir. Then the "4.5 mile" trail (more like 6 mile trail) still took us about 70 minutes to get down. We were moving as fast as we could, and picturing our kids faces as the Bells canyon Trailhead really pushed me on. Finally I could hear and see little voices cheering us on as we neared the end. Never is anything quite so anti-climactic as a finish.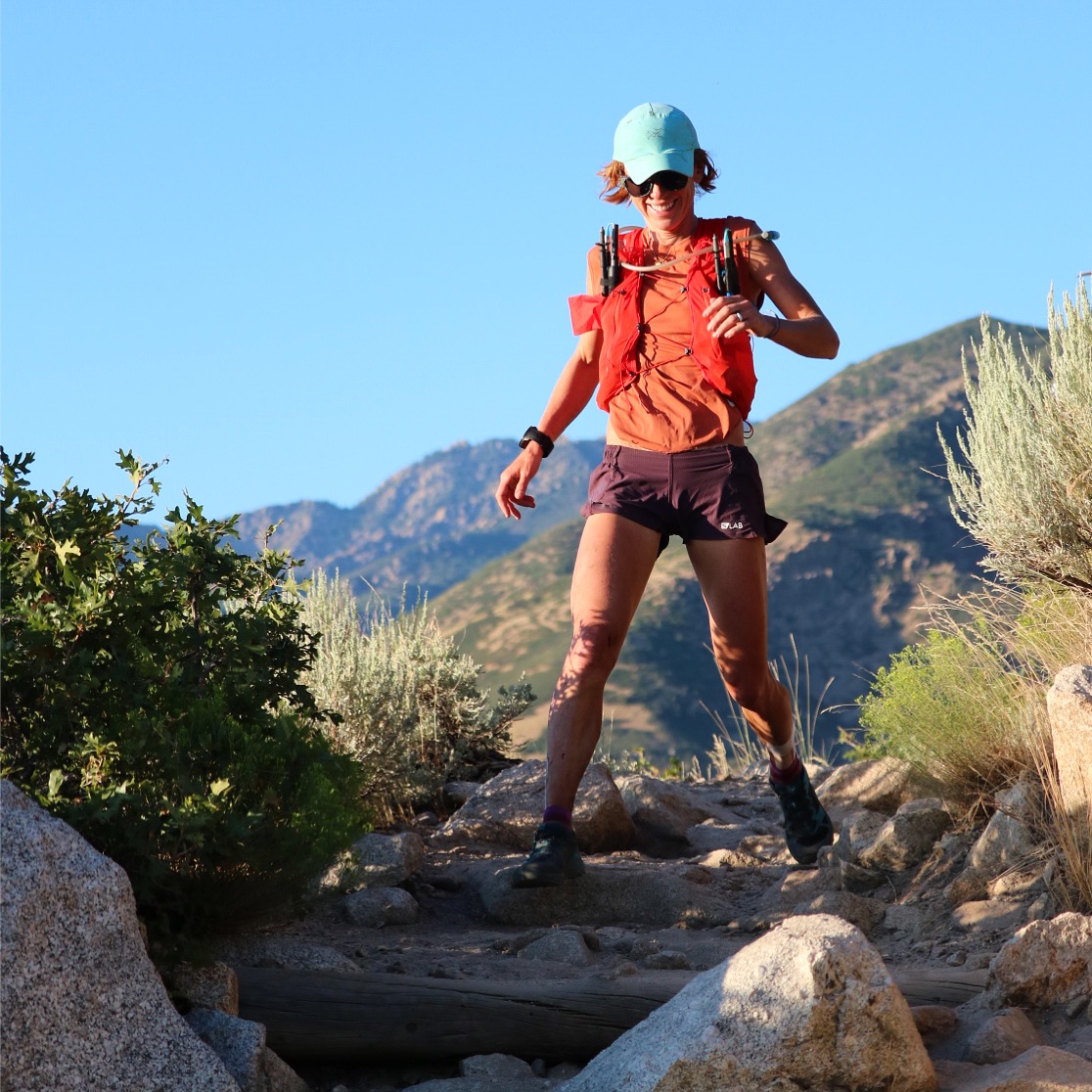 Alexis seeing the kids on one of the last switchbacks, descending to the Bell's Canyon trailhead.
21 hours 49 minutes
We were done. We were happy to be done. Happy to have done the WURL together. I was stoked to have managed another new Female FKT. I was convinced I would never ever do it again..... but we all know that's unlikely ha!
The kids have no understanding of what we just did. Back to parenting. No rest for the weary.
We had both run the WURL years ago, myself (Alexis) in 2013, and Brennan in 2014. We thought we would eventually do it together and it was fun to see that dream to fruition. I beat my previous time (27h 15m) by over 5 hours and Brennan beat his pervious time (23h 18m) by an hour and a half. It felt good, and horrible.